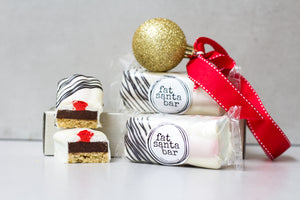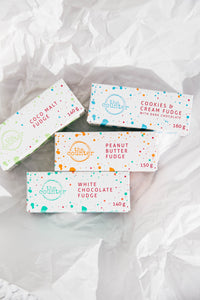 Chef's Favourites
While it's easy to suggest all of our products to our customers because they're all incredibly delicious; here are a few our staff think everyone should try - if you're new here - take our word for it.
Head chef Ian is a sucker for our Gooey Chocolate Brownies. He's a massive chocolate fan and there's nothing but in these fudgey bad boys.
Sous chef Vicky could munch on our Rocky Road Bars all day - the 'kitchen sink' of confectionery; she's not wrong to be in love with these over the top bars.
Up next - Meg's Favourite - Salted Dark Chocolate Cookies. They're chewy, not too sweet with a salty hit and they're jam packed (mmmmmm, jam) with locally sourced chocolate and they're just the right size to indulge in.
Lastly, our incredible handmade fudge - there is nothing quite like it. Forget about that crystallised, grainy fudge you grew up with - here, we do nothing but creamy fudge that melts in your mouth.
Our best seller
If you know, you know. Our creamy white chocolate fudge is our best seller for good reason. As it hits your lips, the locally-sourced white chocolate begins to melt in your mouth. The smoothness of our fudge is legendary!
Buy now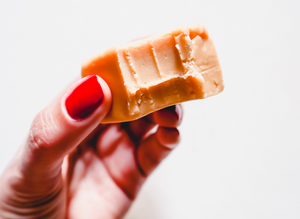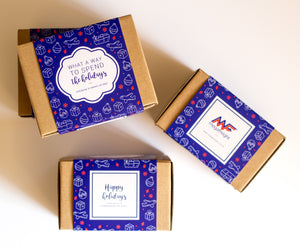 Corporate Gifting
Whether it's one gift box to thank a special supplier for going the extra mile, or five hundred gift boxes for your top clients - we've got your back. With a full gifting range, access to locally produced products from other small businesses, designers and printers on-hand for custom finishes; and a courier service that delivers nationwide - we do it all.
You don't have to lift a finger.
Please email us for a custom quotation: eat@thecounter.co.za.